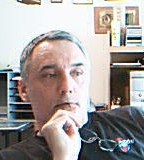 Randy Bacon, President
Mr. Bacon is founder and president of Liberty Realty Capital Group. Mr. Bacon has over twenty years of experience in the commercial real estate and commercial lending industry including originating, servicing and purchasing of loan pools. Mr. Bacon is a member of the Cherokee tribe of Oklahoma and is actively involved in economic development issues in the Native American community. Mr. Bacon studied Construction Management Technology at Oklahoma State University and received a B.S. in Finance from Northeastern State University.
[schema type="person" name="Randy Bacon" orgname="Liberty Realty Capital Group" jobtitle="President" worksfor="" url="http://www.libertyrealtycapital.com" description="Commercial mortgage broker serving the Oklahoma and Northwest Arkansas market." street="1611 South Utica" pobox="102″ city="Tulsa" state="OK" postalcode="74104″ country="US" email="Randy@libertyrealtycapital.com" phone="918-274-0044″ ]Liberty Realty Capital Group is a Native American owned commercial mortgage broker specializing in funding of commercial real estate and business ventures. Liberty Realty Capital Group is located in a Hubzone area of Tulsa, Oklahoma.